An Atlanta native, Glenn grew up listening to bands during the 70's and 80's back when music was perhaps more authentic than today's corporate sponsored fare. He formed his first bands during his high school days, learned to play, learned to sing, and went to every live show he could to watch and learn (yeah, this was long before the days of YouTube!). Since then he's played with a host of different bands, initially around south Florida where he lived for a while and then in and around Atlanta after returning home.
Hundreds of gigs later, his musical chops firmly established, he has certainly enjoyed the pursuit of musical happiness along the way. A variety of projects exposed him to many formats from the classic power trio to a seven- piece configuration featuring dual guitars, keyboards, and dual male and female vocalists. As you can imagine he's covered a lot of styles and learned to adapt and absorb them all into something uniquely his own.
Long about 2006... While playing in a band could certainly be fun, it did often come with limits and challenges. Glenn decided it was time to refocus and finally make the pure and complete musical statement he had tried to convey all these years. His particular vision extracts the best from his past and adds a good bit that is brand new and straight from the heart. An accomplished guitarist, Glenn is a fluid lead player and holds down a solid rhythm too. Having perfected his vocal technique singing both lead parts and backups with many vocalists, he is today a self-sufficient entertainer. Using custom produced backing tracks and audio loops where necessary, he can cover it all from lighter acoustic music to R&B, blues, and rock. He'll add harmonica on one tune and a bit of slide guitar on the next. It's a great show!
Today Glenn is still gigging as hard as ever, always working on something new, growing and learning. He does solo dates and also provides lead guitar duties for "The Turn" and another band called "Kick Back Jack".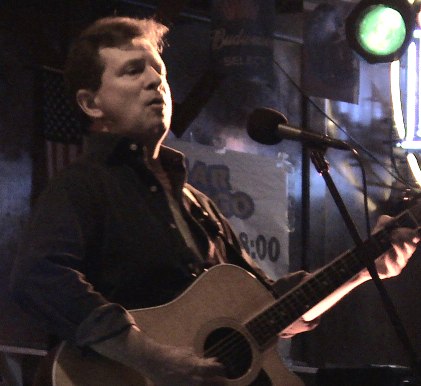 Thanks for visiting! Glenn loves to play and would love to help you plan for your party, club, or special event. He provides a full P.A. and lighting system and can tailor it to meet the requirements of your space. Need a quieter acoustic set to start? Want to pick things up for a rowdy set of tunes that will really connect with the crowd? Glenn can deliver exactly what you need. Check out his upcoming dates and check him out live or just listen to the demos.
Contact Glenn today to be sure your next party or special event is a perfect success!